Protect Your Nest Egg From The Nursing Home: Your Florida Survival Guide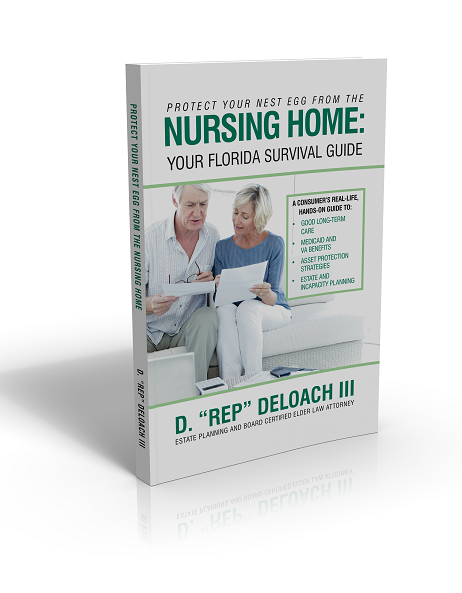 HELP FOR YOU AND YOUR LOVED ONE!
Attorney D. "Rep" DeLoach III has written his book in clear and understandable language providing vital information for your own long-term care and for when you are helping an aging loved one, such as:
What is long-term care and how much does it cost?
The difference between nursing home, assisted living and memory care
How to find a good long-term care facility
How Medicare and HMOs help with long-term care (hint: they do not)
Medicaid and Asset Protection Planning (even when your loved one is already in a nursing home)
VA Benefits that can help pay for your long-term care (including changes that occurred in October 2018)
A glossary of common terms used in the long-term care industry
My loved one just went to the nursing home - help!
ABOUT D. "REP" DELOACH III
D. "Rep" DeLoach III is a Board Certified specialist in Elder Law in Seminole (St. Petersburg area), Florida. Practicing law since 1999, he is a well-known speaker to both the public and to the legal community. Rep looks forward to helping you and your family plan your estate, protect your assets, and properly prepare for the future.
Get Your Free Copy Emailed to You Right Now
Simply fill out the form below and we will send you an instant PDF download.
Yes, I'd Like My Free Copy!