Download our Free eGuide on Navigating the Florida Probate Process!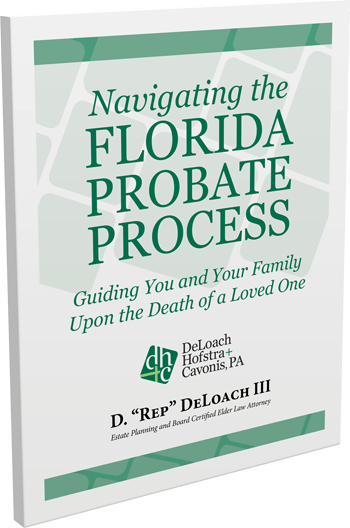 If you are the nominated personal representative of a Florida estate, you have a great deal of legal duties that you may not be aware of. Upon your loved one's death, you may have a lot of questions but few places to turn. Your role as personal representative is that of a fiduciary, holding you up to the highest legal standard possible. Our free ebook, Navigating the Florida Probate Process, will be an indispensable guide to probate that will allow you to follow the legal process, answer common questions, and dispel the many myths of probate. In this ebook, Board Certified Elder Law attorney, D. "Rep" DeLoach, III will cover the following topics and more:
Do you even need probate?
Common Myths about Probate
The 26 Steps of Probate in Florida
Duties of the Personal Representative
Attorney's Fees and Costs
How to Find and Hire an Attorney
The Homestead Process
Estate Taxes
Common Questions and Answers about Probate
A Glossary of Useful Terms
Do Not Hire An Attorney Without Reading Our Free eGuide about the Probate Process in Florida
In order to receive your free electronic copy of Navigating the Florida Probate Process, all you need to do is enter your information below. You will receive an email with the download instructions shortly after entering your information.
Also, ordering this information does not create an attorney-client relationship. And don't worry, the submission is confidential and we won't sell or trade your information to any third parties or call and harass you.
Please Fill Out the Form Below