Download our Free Report: The Secret Reason Why Most Florida Estate Plans Fail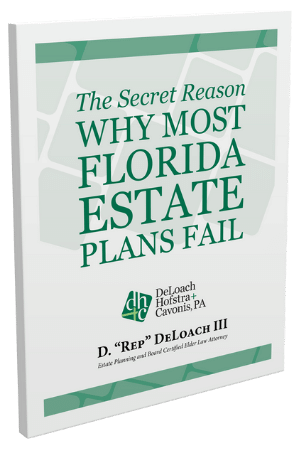 Most Florida residents hope to find a good estate planning attorney to make sure they are protected in the event of their incapacity, so their assets go to their heirs as easily as possible. But because people do not know what to expect from their attorney, estate plans often fail. A failing estate plan will cost you and your heirs money, potentially thousands and thousands of dollars, will cause your family stress, may not even give your assets to the correct people, and much worse!
Download our Free Report and find out Why Most Florida Estate Plans Fail. In our report, you will learn:
The secret most attorneys do not want you to know
Why the cheapest estate plan is not the best
How to look for an estate planning attorney
Why not all attorneys are created equally
And more . . .
Do Not Create a Will or Trust Without Reading Our Free Report
In order to receive your free electronic copy of Why Most Florida Estate Plans Fail, all you need to do is enter your information below. You will receive an email with the download instructions shortly after entering your information.
Also, ordering this information does not create an attorney-client relationship. And don't worry, the submission is confidential, and we won't sell or trade your information to any third parties or call and harass you. Thank you for your interest!