Download Our Free Guide to Florida Long-Term Care Medicaid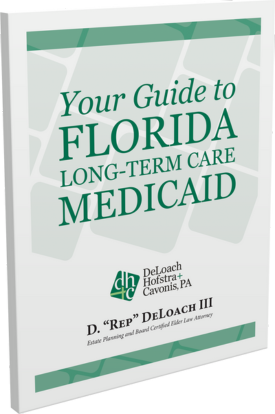 Do you or a loved one need long-term care?
Are you worried about how you or your loved one will pay for long-term care?
Are you wondering if accessing Medicaid is the right option for you or your loved one?
Do you want to protect your assets from the high cost of long-term care?
If so, download a free copy of this free guide, which will provide information on the complexities of planning for the future and safeguarding our loved ones' well-being. This guide will discuss:
What is Long-Term Care?
Medicaid v. Medicare
Assets and Medicaid
Income and Medicaid
Assisted Living Medicaid benefits
Florida's five-year "lookback" period
Legal Ways to Protect Assets within the five-year "lookback" period
Irrevocable Trusts and Medicaid
Things you and your family should do now in order to protect assets from the nursing home
Whether you're seeking guidance on securing your family's legacy, ensuring long-term care arrangements, or understanding Medicaid eligibility, our easy-to-read guide will equip you with the knowledge to make informed decisions and help empower you to navigate these critical life changes with confidence and peace of mind.