Top 20 Rules for Protecting Your Florida Estate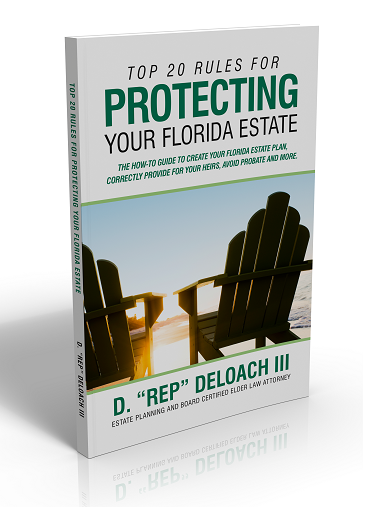 DO NOT CREATE YOUR WILL OR TRUST WITHOUT READING OUR FREE eBOOK!
Get a free copy e-mailed to you. Attorney D. "Rep" DeLoach III has written his book in clear, understandable language that provides vital estate planning information such as:
What your last will and testament does, and does not, do
What is probate and how will it affect your estate
Proper use of revocable living trusts
How you can provide your children a "private pension"
How the costs of long-term care affect your estate plan
Incapacity and end-of-life planning
Recently updated for 2018 Medicaid, VA and Estate Tax laws
The truth is that estate planning has a number of potential complications and Rep's goal is to help make sure you avoid problems and that your wishes are fulfilled. Just because you created a last will and testament or a revocable living trust, does not mean that you have created the best estate plan, but this ebook will help clarify a number of issues to help you and your family.
ABOUT D. "REP" DELOACH III
D. "Rep" DeLoach III is a probate, estate planning, and elder law attorney in Seminole, Florida. Rep DeLoach is Board Certified in Elder Law by the Florida Bar Association, a distinction earned by less than one percent of practicing attorneys. Practicing law since 1999, he is a well-known speaker to both the public and to the legal community. He hopes you enjoy reading this ebook as much as he loves practicing the law and helping his clients create the best estate plan possible.
Read What Others Say About Rep's eBook:
"My reaction to Rep's book was that it was very well done - and very timely for us as we need some help with these matters, including our own estate planning update coming up. Rep made it an easy read and the examples were great for illustrating the points. I highly recommend the book to those who need to start or update their estate plans and related documents. And, from my experience - don't put it off!" - Jerry S., Retired CPA
Fill Out the Form Below To Get Your Free Copy!