Top 20 Rules for Protecting Your Florida Estate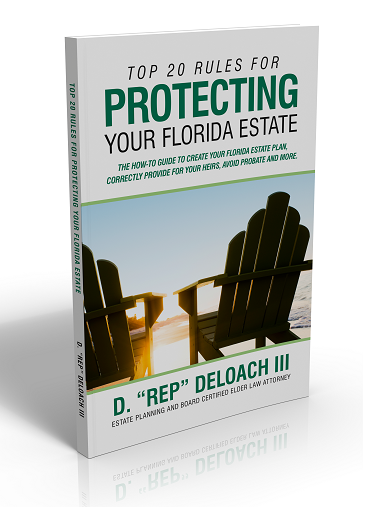 DO NOT CREATE YOUR WILL OR TRUST WITHOUT READING THIS FIRST!
Attorney D. "Rep" DeLoach III has written his book in clear, understandable language providing vital and basic estate planning information such as:
What your last will and testament does, and does not, do
What is probate and how will it affect your estate
Proper use of revocable living trusts
How you can provide your children a "private pension"
How the costs of long-term care affect your estate plan
Clear incapacity and end-of-life planning
ABOUT D. "REP" DELOACH III
D. "Rep" DeLoach III is a probate, estate planning, and elder law attorney in Seminole, Florida. Rep DeLoach is Board Certified in Elder Law by the Florida Bar Association, a distinction earned by less than one percent of practicing attorneys. Practicing law since 1999, he is a well-known speaker to both the public and to the legal community. Rep looks forward to helping you and your family plan your estate, protect your assets, and properly prepare for the future.