FAST TRACK ESTATE PLANNING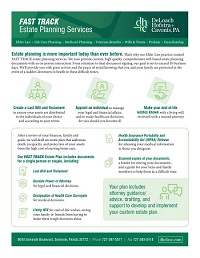 In light of Covid-19, we created our "Fast Track" estate planning services to be delivered no in-person interaction to protect the health and safety of all parties. Through this process, we will provide you with high-quality, custom, and comprehensive will-based estate planning documents. With our process, we help our clients with little turnaround time:
Create a Last Will and Testament to ensure your assets are distributed to the individuals of your choice and according to your terms;
Appoint an individual to manage your legal and financial affairs, and to make health care decisions for you if you become ill;
Making your end-of-life wishes known with a living will, reviewed with a trained attorney; and
A place to turn for your future you and your family.
After a review of your finances, family, and goals, we will draft your estate plan that has you covered for your death, incapacity and help with protecting your assets from the high cost of nursing home care. Our Fast Track plan is ideal for anyone who needs a straight-forward last will and testament who want to make sure their assets to go the right place upon their untimely death. Our Fast Track Estate Plan includes documents for a single person or couple, such as:
Last Will and Testament(s).
Durable Power of Attorney for legal and financial decisions.
Designation of Health Care Surrogate for medical decisions.
Living Will for end-of-life wishes. Tell your family or friends what you want, so they do not have to make these tough decisions alone.
Health Insurance Portability and Accountability Act (HIPAA) Release for releasing your medical information to those you designate.
Scanned copies of your documents, a binder for storing your documents and a guide for your heirs and family members to help them in a difficult time.
Your plan includes attorney guidance and drafting, advice, and support to develop and implement your custom estate plan.
WHY USE DELOACH, HOFSTRA & CAVONIS, P.A.?
Do not leave your estate planning to chance – or to on-line legal resources. When you do things online, you do not know all of the problems you are leaving your family/heirs. Nothing is simple or straightforward in estate planning – we know – and we will help solve problems that you did not even know you had. Simply put, your estate plan is one of the most important things you can ever do in your lifetime – do it right and get peace of mind!
FAST TRACK PLANNING PROCESS
Schedule an Appointment. Speak with one of our Intake Specialists who will assist you with scheduling your appointment and send you the necessary forms to guide the consultation process.
Consult with Attorney. Discuss your planning goals and outline your wishes during a meeting with an attorney using a Zoom or phone conference. The consultation meeting will include an hour to strategize and formulate a plan. If services are retained, your attorney will schedule a second meeting to review your documents with you and, a third meeting for the actual signing of your documents.
Review Your Drafts. Review your documents and discuss your questions with an attorney using video or teleconference technology. The attorney will confirm your signing appointment and review the signing process with you.
Sign in Safety. Travel to our firm and an attorney will facilitate the signing of your documents in a socially-distant conference room, our designated outside signing table (weather permitting), or while you remain in the comfort of your vehicle (curbside signing).
Receipt of Final Documents. All original estate planning documents are delivered in a professional binder, and copies will be scanned and e-mailed for your own reference and potential sharing with your family.
Expedited Estate Planning Fees
The fee for all of this is $1,400 for a couple or $1,000 for a single person. In our initial conference, we will counsel you on your best options and provide a quote for any fees for additional services you may request. Importantly, we are not here to upsell you on anything – we just want to give you peace of mind knowing that you and your family will be protected in these difficult times. If you only want a last will and testament, our fees are $500 for a single person, $700 for a couple.
Call 727-777-6842 to Get Started or to Learn More
Our Estate Planning Team Is Here to Help!
In order to serve you quickly, it is our highest aim that this process, from retention to final document signing, will not exceed 10 business days. You get great service and peace of mind knowing that you and your family are protected in the event of a sudden downturn in health in these difficult times.
Please Note: We also provide "trust-based" estate plans, but these are more complex in nature. In your consultation, we may discuss probate and whether you should have a "Trust-based" estate plan. Trust-based estate plans are ideal for those who: 1) want to avoid probate, 2) own land outside of Florida, 3) want to provide protective trusts for heirs, or 4) own multiple real estate properties.
Fill Out the Form to Get Started or to Learn More