Learn the best way to help grow your family's wealth with an IRA Inheritance Trust!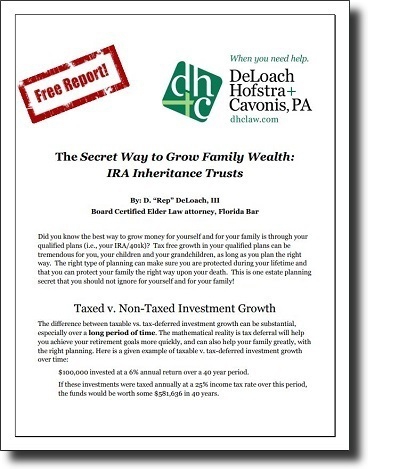 One of the best ways to leave assets to your children is through your IRA/401k. These types of assets can grow tax free for many years, which allows time for tremendous growth. For instance, your $250,000 IRA could easily pay out over $1,000,000 to a child over their lifetime! But most children do not properly structure their inheritance and instead destroy their potential inheritance. Our FREE REPORT will teach you:
The difference between taxed and non-taxed investments;
Problems that can occur with your children and their IRAs;
Sample illustrations for your children and grandchildren;
How your $250,000 IRA can pay out MILLIONS of DOLLARS to your family;
How to provide your children with a private pension for their lifetime;
How to protect your children from themselves, their creditors and their ex-spouses.
This handout will discuss if an IRA Trust would be helpful to your family and who can help you create one. Most estate planning attorneys do not use IRA trusts, but this will teach you why and how you can help grow your family's wealth over many years!
Please Complete the Form Below